Adventures
Muskie Fishing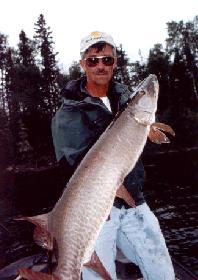 Lake of the Woods is to Muskie fishing as the Super Bowl is to football. We live and breathe Muskies, and are blessed to be located in the heart of the greatest producer of trophy fish known to man. Many of the articles you've read or the Muskie videos you've watched were staged here. Check out the statistics. No other lake remotely comes close as fish producer.
We are set up to accommodate all levels of fisherman. From helping the novice land their first fish, to providing tips and daily advice to the most seasoned professional, Bay Store Camp is your Lake of the Woods guide.
Walleye Fishing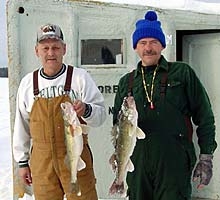 Even at 20 below zero, it's a thrill to catch a
Walleye
! That is why we are open year-round so that you can take full advantage of the seasons. We know that you are a serious fisherman and we want to accommodate your needs as a sportsman.
Most of our fish houses are located on rock reefs within a short 15 minute Bombardier ride. Fish houses are new 8×12 ft. fully insulated with propane heat and lights. They fish four persons in shirt sleeve comfort. We heat the houses and drill the holes prior to your arrival.
Duck Hunting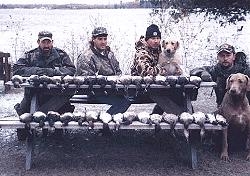 With over 14,000 islands, each with numerous wild rice-filled bays, most duck hunters will think they have died and gone to duck heaven. Located on the Mississippi flyway, along the Ontario/Minnesota border, we hunt according to the seasons and the prevailing wildfowl patterns. The Ontario hunting season starts mid September and provides excellent puddle duck hunting. You'll bag Mallards, Woodies, and Teal, with an occasionally a Widgeon, Gadwall, or Pintail for color. By approximately October 1, the first migrations of diver ducks arrive.
A typical daily bag of divers will include Bluebills (greater and lesser), Buffleheads, and Goldeneye. Canvasback and Redheads are seen daily. Grouse season opens along with the duck season and provides and excellent midday diversion. In addition, most of our duck hunting clients take advantage of the incredible fall Walleye and Muskie with a combination trip. Bay Store Camp specializes in duck hunting by providing camouflage boats, decoys, and retrievers. We keep in touch with the daily feeding and flight patterns in order to provide you with the information needed to maximum your hunting experience.
Ice Fishing

Guided Ice Fishing at it's Best!
We fish virtually very day and make an effort to keep you on fish. You will be checked frequently, and moved to another location if your house is not producing that day. You are not on our fixed schedule, you determine your own fishing hours. Available houses permitting, we allow you to utilize as many as your group would like.
Snowmobilers
Oak Island is centrally located to hundreds of miles of groomed trails. Please call us for a detailed trail map.
More photos from our fishing and hunting adventurers